MOT Garage in Liverpool
Posted on November 28, 2019 by 2mags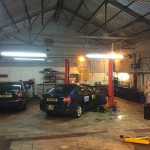 When you need an MOT garage in Liverpool, speak to Project Liverpool. We understand how important it is to find a garage with skilled mechanics that you can trust. As important is the level of service your vehicle receives as well as the costs involved. We are pleased to say that we offer state of the art MOT testing facilities, and are regarded as one of the most efficient MOT testing stations in the area. Our prices are also affordable and we firmly believe in transparency. The price you are quoted is the final price you will pay.
For your older vehicle in Liverpool, an MOT garage must provide an annual MOT test. The MOT is required by law, and ensures that your vehicle is safe to drive on the roads. The MOT test also tests your vehicle's exhaust emissions as well as checking features on your vehicle to ensure their safety. Failure to drive with a valid MOT certificate can result in a hefty fine, or worse, a suspended driver's licence. Bring your vehicle to our garage. Our technicians are experienced and highly trained. They know precisely what to look for the MOT test. Our able team will thoroughly inspect your vehicle to ensure that it meets the requirements of the MOT test. If there are problems that crop up, or issues that need to be seen to, our technicians will inform you of what needs to be done before the MOT certificate can be issued. We can repair most problems that arise in order for your vehicle to pass the MOT test.
Bring your car to an MOT garage in Liverpool for its next MOT test. You will be pleased at the level of service and customer relations. You will also be pleased with our prices. We are equipped to work a\with all makes and models of vehicles, including Land Rover, VW, Audi, Porsche, BMW and Mercedes. Other than providing MOT services, we are also equipped to assist you with servicing, maintenance, air conditioning, fault diagnosis, and electrical and mechanical fault repair. When you are looking for an MOT garage, contact Project Liverpool. We are open 7 days a week for your convenience.